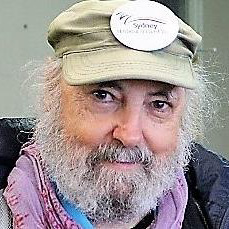 Leigh Shearer-Heriot
Vice President
Leigh is Vice-President of The Walking Volunteers and has been a member since 2004. He worked with other members in developing the first edition of the 'Harbour Circle Walk' (2004-2005) and was responsible with Phil Jenkyn for both the three Northern Beaches maps and brochures (2006-2008) and the two Parramatta River Walk maps and brochures (2009-2011).
Leigh was co-founder of the Great North Walk between Sydney and Newcastle and contributed to the development of the Federation Track between Sydney and Melbourne. He is the organizer of the Wombat Walking Group since 1989, and has been a volunteer guide for Marrickville, Canterbury and Strathfield Councils' Regional Riverlife Program.
He was the driving force behind the proposal by The Walking Volunteers to identify the most appropriate walking route, with linking regional routes, through Western Sydney from Parramatta to the Blue Mountains. This resulted in the inaugural Great West Walk which was led by Leigh and Bill Avery over 5 days in Oct 2019.
Leigh and Bill have re-walked the entire Sydney Harbour & Coast network, with Bill developing new up-to-date online maps.