The Great West Walk
This magnificent 150km walking track stretches from Parramatta Park to the foot of the Blue Mountains and on to Katoomba. The Walk winds through significant public parklands following wherever possible rivers such as the Parramatta and Nepean and creeks that include Toongabbie, Breakfast, Eastern and Ropes Creek before winding up the foothills to the rugged sandstone escarpments of the Blue Mountains.
The Great West Walk was mapped by an experienced group called The Walking Volunteers and is strongly supported by relevant State Government Departments and agencies, and local Councils.
The Walk was opened on 11 October 2019 and is now part of the 'Sydney Walking Tracks' network that extends along Sydney's coast from Broken Bay to Royal National Park, around the foreshores of Sydney Harbour to Parramatta, on to the Nepean River and Blue Mountains and around the Hills District and Southern Sydney.
MAP: The Great West Walk map prepared by The Walking Volunteers. The main track route is in red, with many secondary routes in green. The walks are all interconnected with sections able to be walked in hours, half day or days of one's own choosing.
TRACK NOTES: An Information Kit prepared by The Walking Volunteers
WEBSITES: Western Sydney Regional Organisation of Councils (WSROC) has a specific website greatwestwalk.com.au. See also: Western Sydney Parklands Trust; City of Parramatta; Blacktown Council; Bushwalking NSW.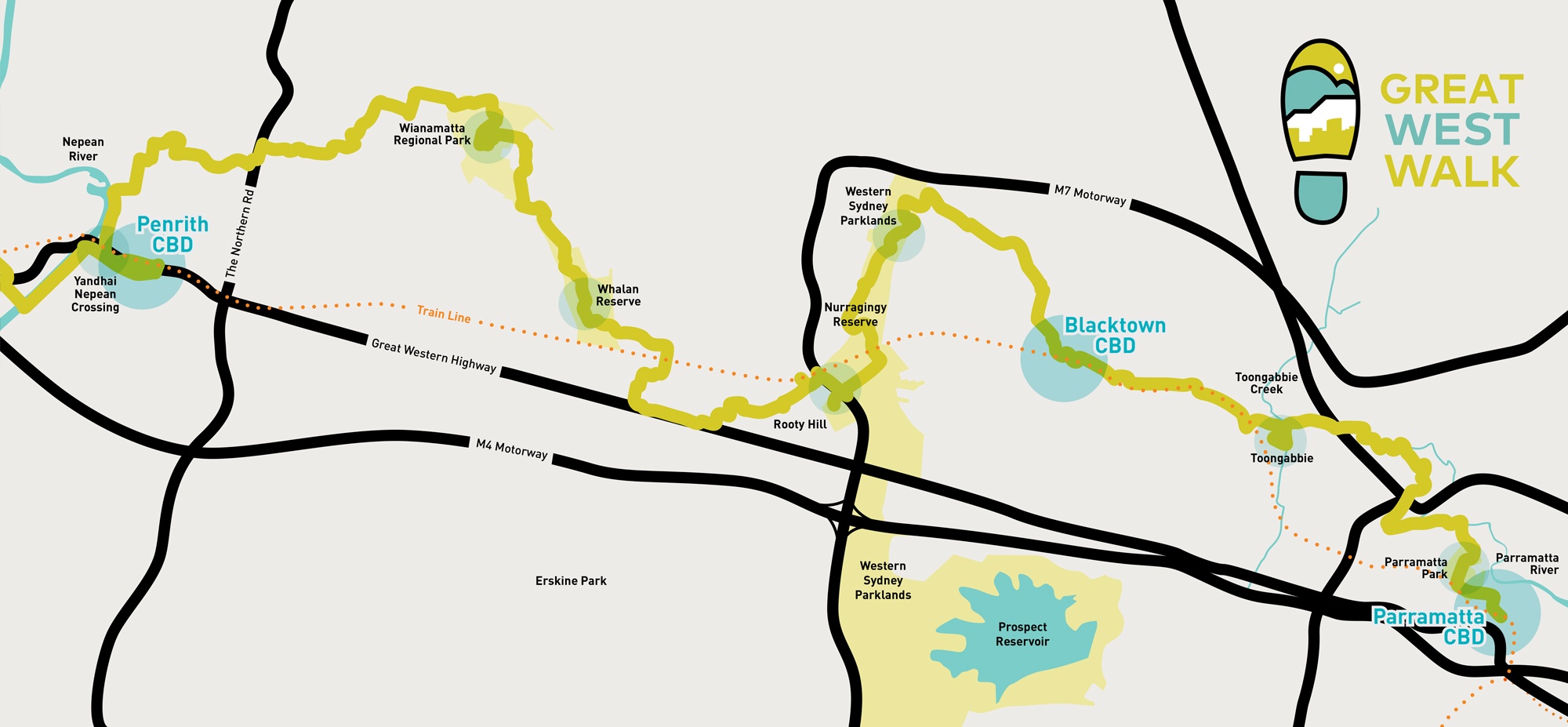 Western Sydney has a new draw card of its own – The "Great West Walk", which stretches 65 kilometres from Parramatta to the Blue Mountains.

#9News | http://9News.com.au

Posted by 9 News Sydney on Tuesday, October 15, 2019
Bicentennial Square, Parramatta
Eat Street (Church Street), Parramatta
Brislington House, Parramatta
Old Government House, Parramatta Park
Old Observatory, Parramatta Park
The Old Dairy, Parramatta Park
Wisteria Garden and Glengariff House, Westmead
Toongabbie Creek, Winston Hills
The Lost Rogans Hill Railway Line, Northmead
Third Settlement Reserve, Winston Hills
International Peace Park, Seven Hills
Blacktown Showground, Blacktown
Nurragingy Reserve, Western Sydney Parklands
Chang Lai Yuan Chinese Gardens, Western Sydney Parklands
Blacktown International Sports Park, Western Sydney Parklands
Rooty Hill Historic Site, Rooty Hill
Neoblie Historic Cottage, Rooty Hill
Federation Forest, Mount Druitt
Ropes Crossing Station Reserve, Ropes Crossing
Wianamatta Regional Park
The Nepean River, Penrith