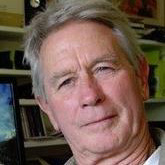 John Illingsworth
John became a member of The Walking Volunteers in 2014. He walked and documented the inaugural Sydney Harbour & Coast Walk in a series of 29 day-by-day videos.
His later walking videos can be viewed at Sydney Walking Tracks and Two Major Coast Walks.
With a film industry background and a bachelor's degree in land processes and indigenous studies, John's films aim to marry prehistory and colonial and modern history with the Australian landscape. Walking is essential to all of this.
"By walking we see nature in detail, often while traversing ancient Aboriginal walking tracks, for they are what many roads and pathways of today follow. Knowledge sharpens our senses and aids the recognition of historical features such as old roads and wartime constructions, native plants and Aboriginal relics.
At Barrenjoey, soil adjacent to a grinding groove (itself adjacent to an extraordinary series of natural formations) reveal two species of shellfish a long way above the ocean shore.
This conjures a centuries-old picture of a man visiting that place and sitting to sharpen his spears while eating a shellfish lunch. Such insights are essential to looking after our country and this is what I hope to pass on to others."